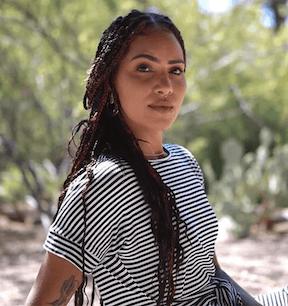 At the end of 2021, community partners from Emerge Center Against Domestic Abuse, Boys to Men Tucson, and Goodwill of Southern Arizona who were tasked with leading a search committee finally found the right person to help administer the community collaboration for the Healthy Intergenerational Masculinity (HIM) Initiative.
Mariah (she/they) has been invested in community education for over a decade, and is passionate about utilizing a trauma-informed approach to community building and collective inquiry. They advocate alongside several local and national non-profit organizations and academic coalitions that support gender justice initiatives and education, empowerment, and equity. Mariah has an M.Ed in Education, and holds certifications in instructional literacy, grounding much of their work in restorative justice, harm reduction, and creating spaces for community accountability. Their work is centered around living and learning through a feminist pedagogical lens encouraged by the works and legacies of Angela Davis, Audre Lorde, and Alice Walker.
Their wealth of relevant experience is certainly a boost to the community-birthed HIM Initiative. This initiative is a grant funded project born from the dreams and aspirations of a coalition of community partners who are working to cultivate more healthy embodiments of masculinity, school and community based intervention work, and men's engagement. Centering a cross-sector approach to accountability work and gender justice, the HIM Initiative is presently led by Emerge Center Against Domestic Violence, Goodwill of Southern Arizona, and Boys to Men Tucson, and the Women's Foundation for the State of Arizona provides fiscal sponsorship. ​
While the initiative specifically centers Black and Brown communities, some of the goals of the initiative include significantly increasing accessibility to programs that promote healthy, intergenerational masculinity in Pima County; increasing the number of trained, adult male stakeholders; and identifying and transforming policies in the schools and in juvenile detention that cause harm to black and brown youth by piloting restorative justice, community-based practices.
Mariah brings a commitment to the work that is rooted in deep care, mentorship, accountability, and relationship building. While this work is just one tendril of a larger legacy of healthy masculinity work that has been activated in Southern Arizona for a very long time, the HIM Initiative creates a new channel for intergenerational accountability work. Much of their own commitment to this work has been cultivated through advocating alongside gender justice initiatives and youth advocacy, and their passions are guided by restorative justice practices, a disability justice framework, harm reduction (especially for queer, trans, and BIPOC youth), and creating spaces for community accountability.