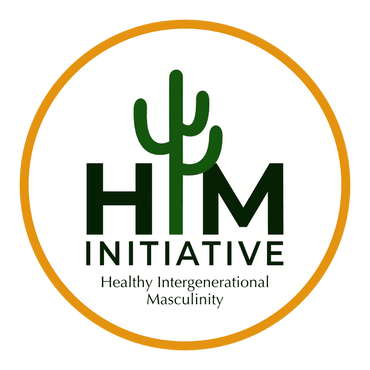 The Healthy Intergenerational Masculinity (HIM) Initiative is a grant funded project born from the dreams and aspirations of a coalition of community partners who are working to cultivate more healthy embodiments of masculinity, school and community based intervention work, and men's engagement. Centering a cross-sector approach to accountability work and gender justice, the Healthy Intergenerational Masculinity (HIM)  Initiative is presently led by Emerge Center Against Domestic Violence, Goodwill of Southern Arizona, and Boys to Men Tucson. This initiative creates a new channel for intergenerational accountability work, that has ambitions to:
Pilot, scale, and support all allied programs throughout Southern Arizona that specifically focus on supporting masculine-identified youth on their journeys towards healthy, purposeful lives–with a priority for supporting communities that have been historically oppressed, including Black, Indigenous, and People of Color (BIPOC).
Change and uproot systemic policy that harms masculine identified youth, especially within the BIPOC community. For example, we are partnering with our largest school districts to pilot restorative justice work in place of punitive approaches that have a demonstrated link to the school-to-prison pipeline. Our goal is to identify a range of policies across both the educational and juvenile justice systems that can be challenged and transformed. 
Radically increase the number of men who are devoted to healthy masculinity work with boys, in any capacity. This work involves recruiting and training men to be changemakers in their own communities, providing financial support to communities of men who can't afford to get involved due to being impacted by various systems of oppression, and identifying and transforming other systemic barriers that unfairly prevent men, especially BIPOC men, from doing intergenerational work. 
Create expansive community-wide healthy masculinity trainings and workshops that encourage systems change and restorative action.
This is a long-term, community-based collaboration that has grown quickly as a result of our 2020 Masculinity Forum and Community Readiness Assessment on Intergenerational Masculinity. 
As we continue to grow this movement, we are actively seeking support from community members and organizations who have an interest in contributing to the expansion of this work.
More on the HIM Initiative at https://himinitiative.org